Photos by NOEL GODINEZ www.nordis.net Any comment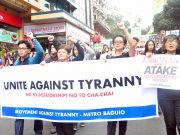 February 23 marked the 32nd anniversary of the historic People Power uprising in 1986 which toppled a dictator. Now, in 2018, people from different sectors, mostly from the youth have put it upon themselves to work for the downfall of another tyrant because as they say: "dictators fall."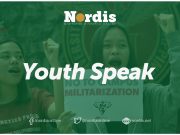 By REGINALD PATRICK J. FLORES www.nordis.net Fifty years ago, youth and student leaders all over the nation led a series of protests and mass demonstrations against...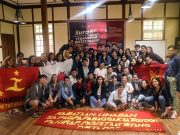 Author and First Quarter Storm activist Rudy Liporada shares his introduction to, and experiences as a member of, Kabataang Makabayan in the Martial Law era, as he parallels their motivations with the current political climate in the Philippines.
One fateful day in 1986, the powerful dictator met a more powerful force — the Filipino people. On February 25, 1986, one of the most powerful dictators in the world bit the dust and suffered the fate of many dictators — being overthrown by the people.

Nagtitipon dagiti biktima ti martial law, kakabagyan ken gagayyemda tapno rambakan ti nagun-odan iti pannakilabanda para iti hustisia ken indemnipikasion para kadagiti biktima ti panaglabsing iti karbengan tao. Naangay daytoy idi Hunio 16 iti Bantayog ng mga Bayani iti Siudad ti Quezon.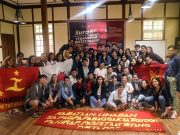 Youth organizations and survivors of the Martial Law era commemorate the 50th anniversary of the First Quarter Storm, recognizing the mass actions that challenged Ferdinand Marcos' dictatorial regime 50 years ago.
BAGUIO CITY — Impablaak ti Human Rights Victims' Claims Board (HRVCB) idi Mayo 7 iti facebook a 14.65% wenno 11,103 laeng a claims ti pinal nga inaprubaranda iti kabuklan a 75,749 a nangipila iti aplikasion idi 2014 ken 2015. Adu ti na-deny gapu ta kurang kano ti insubmitar dagiti claimants nga ebidensia.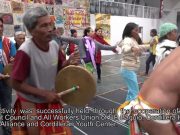 Different groups pledged to unite against all forms of tyranny and attacks against people's democratic rights as they remembered the declaration of Martial Law during the Cordillera Human Rights Summit held at UP Baguio on September 20. A march protest followed the summit to score the intensified attacks against activists and government critics.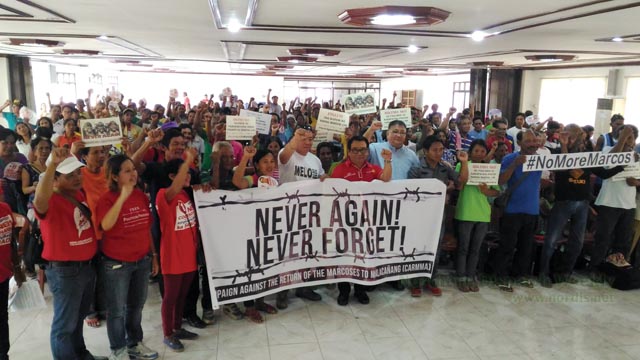 Human rights and famers' group on Tuesday, November 13, slammed the statement made by National Police Chief Oscar Albayalde and the Sandiganbayan's deferment of the former first lady's warrant of arrest over the conviction of Ilocos Norte Representative Imelda Marcos.

Ni BRENDA S. DACPANO www.nordis.net TUGUEGARAO CITY — Dumagsa ang humigit-kumulang 3,000 na mga biktima ng Martial Law sa pagpila ng aplikasyon para sa reparasyon at...