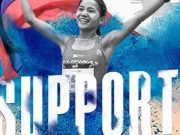 "The Filipino people should continue to support the Filipino athlete. Their outrage is directed at the evil Duterte-Cayetano combine," the long-lasting underground publication said.
Cordillerans have one more reason to watch this year's Southeast Asian Games, with the entry of Realis Lorena Dawiguey Tabiando of Baguio City, the first Igorot female to compete for the Taekwondo Gyeorugi (sparring) events.
By DELIA BAGNI www.nordis.net
BAGUIO CITY — Team Lakay fighter Dave Galera is set to fight Reydon "Red" Romero of Manila Deftac team for the Interim Bantamweight Title Belt in the main event of the Universal Reality Combat Championship (URCC) 23 "Unrivaled" on April 27 at the SMX Convention Center of the Mall of Asia (MOA). [caption id="attachment_15096" align="alignleft" width="300"]
BAGUIO'S PRIDE. Mixed Martial Arts fighters of Team Lakay pose with their championship belts during the press conference at Luisa's Cafe for their upcoming fight next month on Universal Reality Combat Championship (URCC) at Mall of Asia arena. Photo by Delia Bagni[/caption]Galera holds a perfect record of four wins and no loss. He swept three of his winning bouts by submissions. His fight against one of the toughest bantamweight pugs Kieff Mangusan of La Trinidad, Benguet leaves him with an impressive first round submission mark. Galera traces his roots in Baguio City.
By KIMBERLIE NGABIT-QUITASOL www.nordis.net BAGUIO CITY — The Baguio-Benguet route of The North Face 100 (TNF 100) apart from being among the qualifying races for the...