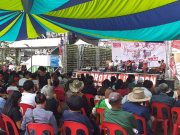 The Cordillera Peoples Alliance announced the cancellation of the 36th Cordillera Day celebrations in Kalinga due to the Coronavirus threat. They also slammed the government's campaigns against the organization and the activity.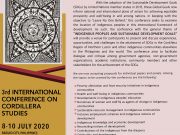 Renowned IP, women's and environmental rights advocate Dr. Priscilla Settee is set to speak at the third International Conference on Cordillera Studies on July 8-10 this year. Call for papers is extended until February 25.
For the Northern Dispatch Weekly Holy Week issue (March 27), deadlines for stories and placement for advertisements is at 1:00PM of March 22, 2016.
BAGUIO CITY — "It is a big relief for us residents of Manapnap that the rehabilitation of the water system has done; our children will no longer go to the river to take a bath before going to school and we do not need to go far to fetch water". This is from a mother who worries every time her child goes to the river.
LA TRINIDAD — With an aim to empower the citizenry in the locality specially the youth, newly crowned Top Outstanding Student of the Philippines (TOSP), Apolinario 'Apoli' Bagano, a graduate of Development Communications of Benguet State University (BSU), vows to continue what he has started while he intends to conquer yet another feat outside the walls of the University – Law School.

By ABRAHAM M. DE CASTRO I had to clarify that actually, Bauko had electricity already back in the 1980's. It was through the efforts and hard work of my brother in law, the late Cong. Victor S. Dominguez (who was an Assemblyman then), that accomplished this. In fact, Mountain Province had electricity ahead of the province of Benguet which was geographically closer to Baguio City.
LA TRINIDAD, Benguet — It is good news for the descendants of World War II veterans in Bokod of this province.
by ARTHUR L. ALLAD-IW www.nordis.net BONTOC, Mountain Province — To raise funds for the dialysis patients of this province, a Katagoan caravan was launched today, April...