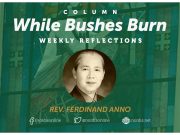 "The exilic situation of prophet Ezekiel's Israel is not remote to our present planetary situation. We are as separated from our "common home", and as hopeless and lifeless as the exiled nation of our text, whence these words come as a timely gospel to us in our situation."
"I firmly think that like all other moms, my mother, bless her soul, applied Vicks to all my maladies out of love. Like depicted on radio ads of old and TV ads later, she was the mom who wanted to alleviate my colds, my wounds and sores, headaches, fever, itches and whatever with Vicks VapoRub."
"The typical Pinoy patient is more of a Pinoy than a patient - hindi pupunta sa iyo iyan hangga't maaari, hangga't kaya. This 'para-paraan' mentality transcends every aspect of our lives as citizens and as a nation."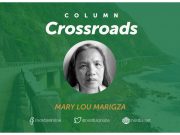 "The pandemic is a global war on an invisible enemy. At times like this, it is vital to call upon technical people and specialists for assistance, and to listen to the people on the ground who are at the end of the incompetent response."
"I still can still see his fierce face and veins coursing his arms when he clenches his fist whenever he declaims his favorite poem during the earlier First Quarter Storm cultural presentations of urban activists."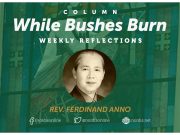 "The COVID-19 pandemic happens not in a vacuum but in a world afflicted by the virus of unloved and injustice and scandalous separation from one another."
By RUDY D. LIPORADAwww.nordis.net (Columnist's Note: On the occasion of the 51st Year Anniversary of the New People's...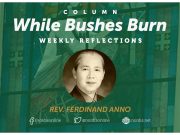 Celebrating International Women's Month in the church setting and the season of Lent calls us (1) to remember the passion of women in the Christ event, (2) to be repentant about our age-old attitude towards women and the woman question and (3) to revise the social order according to the social vision of the woman question.
"President Rodrigo 'Digong' Duterte is a traitor, the enabler of the Chinese fifth column in the covert Chinese invasion of the Philippines. He must be stopped NOW!"
The shout is down with imperialism which controls our economy through the landlords as their cohorts who control the government. This relationship between them is the root cause of our underdevelopment, unemployment, poverty, and all maladies that befall the Philippines.
"With a number of relatives planning our itinerary based on what they thought we should see and do and how to go about doing so, many times we entered the syndrome of 'kung ayaw, maraming dahilan; kung gusto, maraming paraan'."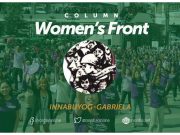 "In their aspiration for a better world for the younger and unborn generations to inherit, they are activists for social change, just and lasting peace. They are selfless and worth emulating. There is nothing terroristic about their endeavors."