2
MIN READ
Ni BRENDA S. DACPANO
www.nordis.net
BAGUIO CITY – Maysa a konversasion ken ni Patis Tesoro, nalatak a fashion designer, ken kadagiti lokal a mangngabel ditoy Kordilyera ti naangay idi Marso 6 iti Teatro Amianan iti University of the Philippines Baguio. Addaan ti titulo a Kulay at Kapas a panangibingay ken pannakipatang maipanggep iti desenio ken ti pannakausarna iti kontemporanio a panagabel.
Dagiti lokal a mangngabel Norma Agaid ken ti anakna a ni Maria Zita Benabese manipud iti Peñarrubia, Abra; John Rae Guimbungan iti Hingyon, Ifugao; ken Catherine Domigyay iti Can-eo, Bontoc ket nangibinglay iti kaammuanda maipanggep iti panagdesenio ken panagkakammayet ti baro iti tradisional a desenio iti panagabel, panagburda ken iti kawes.
Kas sungbat iti saludsod no apay a nagka-interes iti nainsigudan nga abel, kinuna ni Tesoro iti English a saan nga interesado isuna iti mismo a panagabel no di ket interesado isuna iti panangparegta manen iti industria tapno agtultuloy ti panagdur-as ti pangkabiagan ti tattao.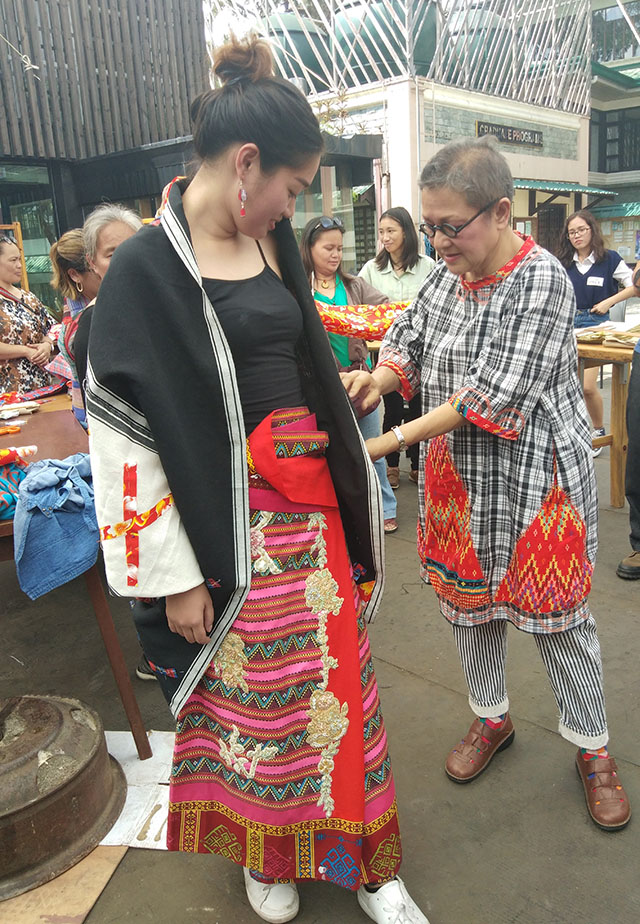 Nagrugi ti panagayat ni Tesoro iti nainsigudan nga abel idi napan isuna iti lugarda Norma Agaid idiay Namarrabar, Peñarrubia idiay Abra, 30 a tawen ti napalabasen. Nakitana ti allap, maysa a tapis a kasla ules ket inallukoyna dagiti Agaid a biagenda manen daytoy gapu ta adda met ti natural a tina nga usarenda. Manipud idi, pinasantak dagiti Agaid ti nainsigudan a panagabel idiay Namarabar. Isuda mismo ti agparpartuat iti abel manipud iti panagaramid iti sinulid, panagtina agingga iti panagburda.
Kinuna ni Tesoro, "to sell more things, you have to innovate," (tapno makalako iti ad-adu, kasapulan nga agaramat kadagiti baro a wagas, idea, metodo). Impalawagna daytoy kasilpo iti saludsod no ania ti panagkitana iti kina-purist iti panagdesenio.
Naangay ti konversasion iti agsapa bayat a naaramid ti demo iti panagdesenio iti sango a paraangan ti Museo Kordilyera iti UP Baguio iti malem. Babaen kadagiti retaso, panagdait a de-mano ken panagsisilpo kadagiti inabel manipud kadagiti nadumaduma a tribu ket nakaaramidda iti kawes. Timmipon iti demo dagiti dadduma pay a lokal a mangngabel: Mia Sarmiento, Abigail Mae Bulayungan, Graal Cawed, Rose Ann Wandali ken Rovilyn Mayat-an. Nakasallapay met a naipabuya iti aglawlaw ti aktibidad dagiti inspirasion nga obra ni Tesoro manipud iti nadumaduma a lugar ditoy pagilian, ken inabel a produkto dagiti Agaid ken dadduma pay a lokal a mangngabel.
Ti Kulay at Kapas ket paset nga aktibidad ti Ipitik Festival 2020 a naisayangkat katinnulong ti UP Baguio, Museo Kordilyera ken Council for Baguio Creative City.
Local weavers Ms. Catherine Domigyay, Mr. John Rae Guimbungan, Ms. Norma Agaid, Ms. Maria Zita Benabese, Ms. Mia Sarmiento, Ms. Abigail Mae Bulayungan, Ms. Rose Ann Wangdali, Ms. Graal Cawed and Ms. Rovilyn Mayat-an join designer Patis Tesoro for a day-long activity of discussions on the fusion of traditional weaving and contemporary designs. Ti Ipitik Festival, maysa a panagrambak iti kultura ti Kordilyera ken arte iti komunidad. Immuna a naisayangkat daytoy idi 2011 nga indauluan ni Ferdinand John Balanag, lokal nga artist. # nordis.net