3
MIN READ
By NATHANIEL FABIAN
www.nordis.net
TUGUEGARAO CITY, Cagayan — Members of progressive groups in Cagayan Valley called for government accountability for its neglect of basic services and widespread rights violations on December 10, International Human Rights Day.
Karapatan-CV Secretary-General Jackie Valencia scored the Duterte administration's Joint Campaign Plan Kapanatagan and Executive Order 70. She said the policies allowed the president and the militarist in the government to impose a de facto Martial Law in the country.
According to her, vilification, threats, harassments of government critics have been increasing even before Duterte's term. She said that some have received death threats and fell victim to extrajudicial killings.
However, the Karapatan-CV leader said there was a steep rise after Duterte terminated the peace talks and ordered state forces to go after suspected "communist fronts."
In Cagayan Valley alone, Karapatan documented 14 victims of extrajudicial killings under the Duterte government. Meanwhile, progressive organizations and its members are tagged as "communists terrorist" by state forces.
Valencia also decried the intense militarization of peasant communities that targets land rights activists. She cited the case of six Kalinga farmers shot at and arrested by soldiers in Isabela, the forced surrender of Anakpawis and Kagimungan members in Cagayan, and the arrest of 5 peasant organizers in October.
Among the notable case of EJK is the assassination of National Democratic Front Peace Consultant Randy Malayao. Suspected state forces shot him on January 30, 2019, while asleep inside a bus bound to Isabela. Instead of going after his killers, the police instead filed cases against her sister and lawyer for "grave coercion." The murder remains unresolved, with no clear leads to date.
Before the killing, Malayao was detained for trumped-up charges and also received death threats after his release. He was also among the more than 600 individuals named by the Justice Department as ranking Communist Party of the Philippines-New People's Army (CPP-NPA) leader in its terrorist proscription petition against the group.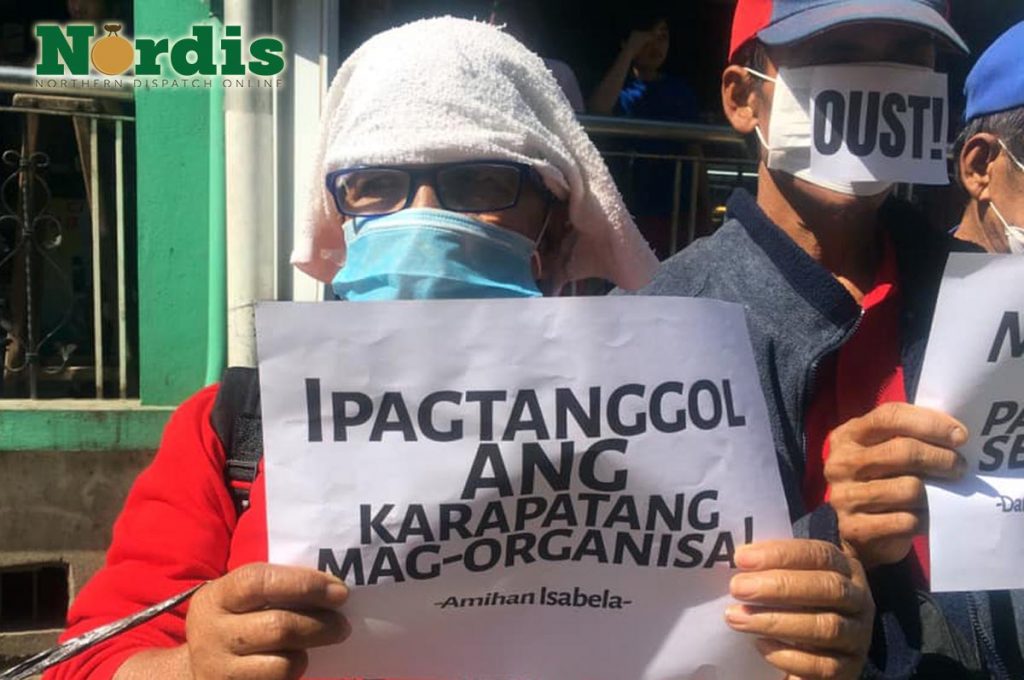 Social neglect
In a joint statement, the organizations that joined the protest questioned the decreases in the budget on basic social services such as education, health care, and housing while spending billions on questionable projects. They particularly cited the issues hounding the hosting of the 2019 Southeast Asian Games and onerous loan agreements with China.
"Galit si Pres. Duterte pati ang kanyang mga bayarang tagasuporta na nakikinabang sa kanilangpwesto kapag nagtatanong ang mga mamamayan Pilipino (President Duterte and his supporters, who benefited from their posts, are mad at Filipino people who ask questions)," the statement said.
They also lambasted the Department of Environment and Natural Resources for backing the renewal of OcenaGold Philippines, Inc. mining permit in Nueva Vizcaya. The endorsement came despite the strong opposition by the people and local government units.
Meanwhile, Danggayan chairperson Isabelo Adviento pointed out the hardships brought by the Rice Tarrification Law. He said that many farmers went bankrupt and failed to pay their debts with the drastic drop of palay (unmilled rice) prices. Farmers are suffering severe economic crisis after because of the RTL, and the back-to-back flooding in the region.
Rose Bunugan, a peasant leader from Quirino, said that across the country, organizations asking for genuine social change are attacked.
"If peasants call for land rights, they say we are NPA. If students and youth ask free education, they say they are NPA. If we call for justice for those killed during his regime, they say we are NPA," she lamented.
Harassments even on HR day
Valencia said that even on Human Rights Day, state agents continue to harass and curtail their rights.
She recalled that during the activity, the police tried to halt the protest for lack of a permit. They were able to continue with their sheer assertion of their right to peaceful assembly.
"In every protest, state intelligence personnel take pictures of the protesters. Today, even on the day to commemorate human rights, they tried to black our way," Valencia said.
Posters and leaflets red-tagging the group was also scattered in the city and the protest venue. # nordis.net