4
MIN READ
By SHERWIN DE VERA
www.nordis.net
VIGAN CITY, Ilocos Sur — Bagong Alyansang Makabayan (Bayan) – Ilocos subjected its office in the city for search and inspection by officials from the barangay and personnel of the Commission on Human Rights (CHR) Region 1 on Friday, December 6.
Barangay council member Timoteo Sajonia, together with two tanods (village watchmen), led the thorough search of the office located along Gov. A. Reyes Street in Barangay VIII. Alexander Bandolin and Paul Angelo Bacurnay, special investigators from CHR-1, assisted the local officials.
"Segun ti panangisayangkatmi ti search apo ket awan met ti aniaman a nakitami nga armas (We found no we weapon based on the search we conducted)," Sajonia said.
He also appreciated the effort of the group to inform them of their concern and the initiative to let authorities search their office and premises.
"Ket sisasagana ti intero a barangaymi apo nga umay umarayat no adda man kasapulanda ken mangpaneknek ti kinataoda (The entire barangay is ready to assists if they need something and vouch for them)," he added.
Investigators from CHR-1 concurred with the findings of the officials from the barangay.
"So far awan ti nakitami nga illegal a gamit wenno aniaman a maikaniwas iti linteg maipanggep iti inaramid tayo a voluntary search (So far we did not see any illegal item or anything contrary to the law during the voluntary search we conducted)," Bandolin said.
He also noted that the place is a legitimate office of the organizations undertaking legal work.
"Nakitami met nga awan ti iduldulinda nga aniawan iti daytoy nga opisina. Kasta met nga awan ti aniaman nga iduldulin ti daytoy a grupo nga something illegal. Kastamet nga awan ti aniaman nga ebidensia a mausar kanyada (We saw that they are not hiding anything inside this office. The group is also not hiding anything illegal. There is also nothing here that can be used as evidence against them)," the CHR investigator added.
According to him, given the present political situation, the marching order their director is to be vigilant of abuses committed by state actors.
"So far ti CHR Region 1 ket agbanbantay ti aniaman a panangbauso ti state actors ta isu met ti marching order kanyami ti directormi, no adda panagabuso ti PNP wenno militar, ken tapno maiwasasn dagiti illegal search a mapasamak (So far, the marching order of our director is for CHR Region 1 to keep an eye for violations committed by state actors, if there are abuses committed by the PNP or military, and to prevent illegal searches from happening)," he explained.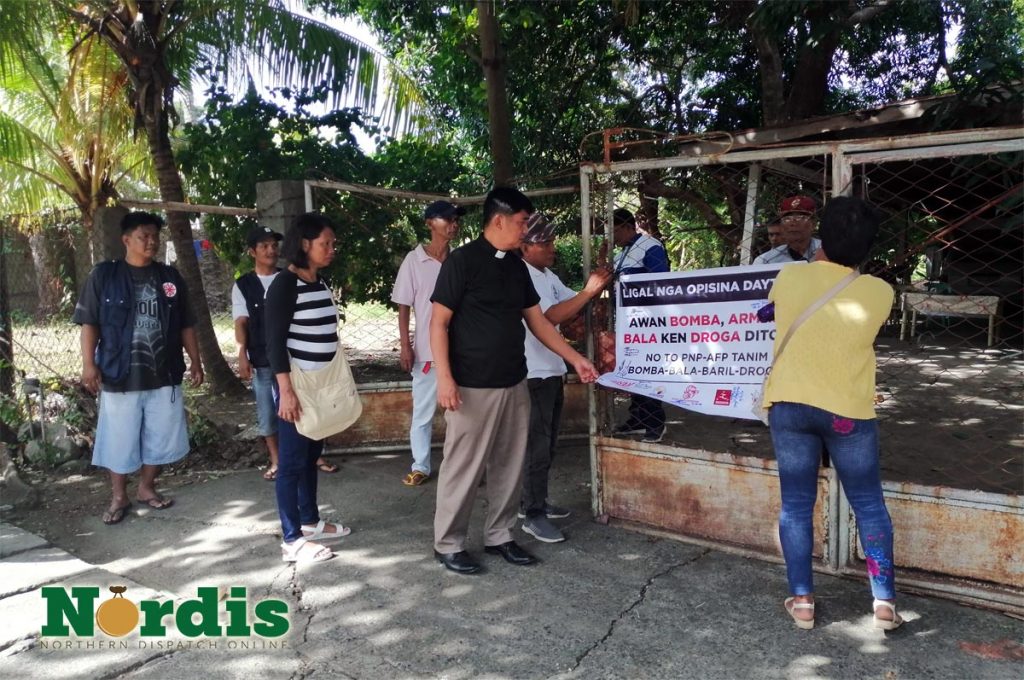 Antonino Pugyao, the chairperson of Solidarity of Peasants Against Exploitation (Stop Exploitation), explained the reason why they requested government officials to inspect their office. Stop Exploitation is a member of Bayan Ilocos, along with Ilocos Human Rights Alliance (IHRA), Anakbayan Ilocos, and other sectoral formations.
"Ti primary objectivemi no apay ipa-search ti opisina ket tapno paneknekanmi a daytoy nga opisina ket legal ket awan ti ilemlemengmi nga armas, awan ilemlemmengmi a droga wenno aniaman nga illegal a banag (Our primary objective why we requested the search is to prove that this is a legal office and we are not hiding any weapon, we are not hiding drugs or anything illegal)," he said.
According to him, they were forced to leave their old office last March. This was after members of the Bantay Municipal Police told barangay officials and the owner that two NPA members regularly visit the place. Besides the fabricated story by the police to frighten the house owner, state agents also monitored the area continuously.
He said they are worried that the series of raids of activists' offices in Negros Occidental and Manila, and arrests of 57 persons from these incidents, would also happen in Ilocos.
"Amakenmi la unay apo a mapasamak ti kadiay isu a nagkaykaysakami apo nga ipasukimatmi daytoy opisina ken ipakaamomi kadagiti opisial nga adda kami ditoy ket silulukat no adda kayatda nga ammoen kasilpo iti trabahomi (We are really concern that such thing will happen, so we agreed to ask the officials to check our office and inform them that we are here and open to anything they want to know about our work)," he said.
"Napintas ta naisayangkat daytoy voluntary search iti opisina ket sapay koma daytoy a napasamak ket saan koma nga isu ti gapuanan dagiti AFP nga adadda manen a mangharass kadagiliti kamengmi kangrunaan dagiti lideres nga immay itatta (It is good that we conducted this voluntary search in the office and we hope that this will not again result to more harassment of our members by the AFP especially the leaders who came here today)," the peasant leader added.
However, Pugyao admitted that submitting their office for voluntary inspection is not a guarantee that state forces will spare them from illegal raids and searches.
"Iti panangipatungpalda ti Executive Order 70 ken kumarkaro a desperasion ti administrasion a mangpaulimek kadagiti kritiko, ekspektarenmi a kumarkaro pay ken umirteng ti ipaay ti gobierno a ranggas kadagiti oposision ken aktibista (With the implementation of Executive Order 70 and the deepening desperation of this administration to silence its critics, we expect that the state perpetrated violence against dissenters and activists will intensify)," he ended. # nordis.net