2
MIN READ
By SHERWIN DE VERA
www.nordis.net
BAGUIO CITY – The National Union of Students of the Philippines (NUSP) – Cordillera welcomed the decision of the Sangguniang Panlungsod (city council or SP) to refer the proposed measure to protect human rights advocates from red-tagging and the dangers that come with it.
The legislative body forwarded the proposed ordinance, titled Human Rights Defenders Ordinance, to the Committee on Laws, Human Rights, and Justice "for study, comments and recommendation" during its regular session on November 18. The NUSP and its co-proponents received the notice and official transcript of the proceeding from the SP secretary on December 3.
Also forwarded for committee deliberation is the "Resolution supporting the initiative of the House of Representatives and Senate of the Philippines to recognize and protect human rights defenders through the enactment of the Human Rights Defender Bill."
"The Union applauds the initial progress of these pro-people measures in the Sangguniang Panlungsod. As the critical youth and other sectors have sustained recent attacks, continued red-tagging both online and offline, we stood relentless in fighting for our freedom of expression and more democratic society," said Louise Montenegro, spokesperson NUSP Cordillera.
She said both documents were the result of the caucus during the Baguio Youth Parliament 2019 last September 28. The activity was part of the annual Baguio Students Day.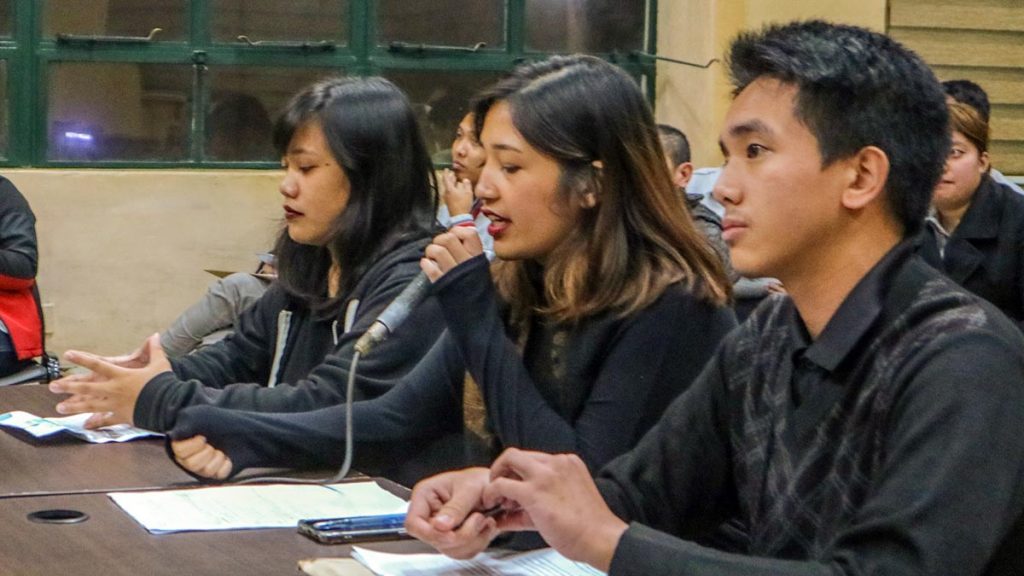 The proposed ordinance is a localized version of the Human Rights Defenders Bill that intends to safeguard the rights and freedoms of human rights defenders. The measure, filed by Makabayan Bloc, includes a provision that protects the rights advocates against vilification and providing a penalty.
The NUSP leader explained that even before the September activity, they already strengthened the campaign against red-tagging following the purported 'Red October Plot' in 2018. In the said case, defense officials maliciously tagged and accused various schools and organizations as "communist-terrorist fronts" and recruiters of rebels to oust President Rodrigo Duterte.
"Amid the crackdown against activists and human rights defenders, the rampant red-tagging fora in universities and communities, this development in our collective lobbying efforts with Kabataan Partylist Cordillera [and Cordillera Human Rights Alliance] among other groups is indeed valuable and remarkably a testament of resistance," Montenegro said.
She also thanked Sangguniang Kabataan Federation and members of the city council "for hearing out the legitimate concerns of the youth."
"We challenge the city council officials to uphold this ordinance towards its continued passing and protection of the rights of the people," added Montenegro.
The proposed measure is still up for discussion by the committee headed by Councilor Betty Lourdes Tabanda before they can decide whether to shelve the proposal or proceed to Council hearings.# nordis.net