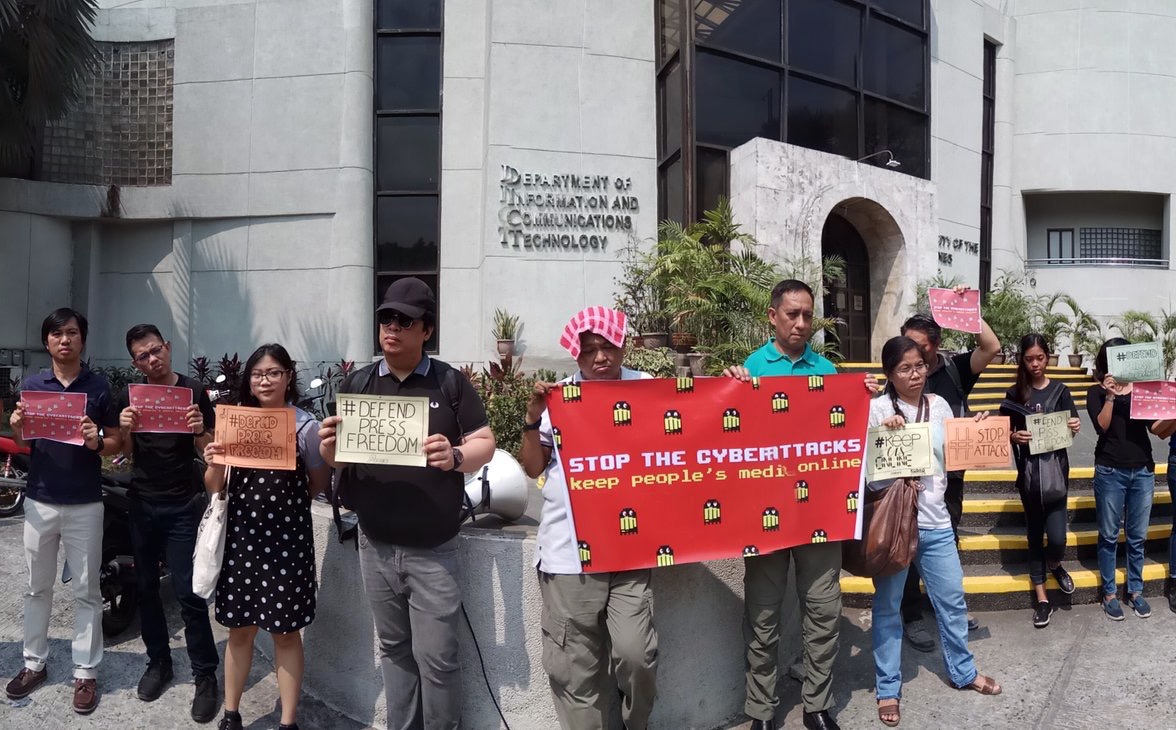 2
MIN READ
By KIMBERLIE NGABIT-QUITASOL
www.nordis.net
BAGUIO CITY — Members of alternative media, digital rights activists, and artists picketed the National Computer Emergency Response Team (NCERT) of the Department of Information and Communication Technology (DICT) office to protest the negligence of the office to respond the cyber-attacks against groups critical to the Duterte administration.
The March 12 protest, that coincided with the World Day Against Cyber-Censorship, also called on NCERT to investigate the three-month long Distributed Denial of Service (DDoS) attack on alternative media and human rights group websites.
Ronalyn Olea of Bulatlat said the spate of attacks are in fact part of the different attempts to stifle press freedom in the country as seen in the recent arrest of long-time journalist Maria Ressa and several threats thrown to the media that no less than the president himself issued against dominant news agencies Philippine Daily Inquirer and ABS-CBN.
"Statistics, too, can speak for itself on the dire situation of press freedom in the Philippines,"she said.
According to her, there are now 12 journalists killed under President Duterte. She also cited the 85 cases of threat and intimidation documented by the National Union of Journalists in the Philippines as of November 2018.
For the past three months, cyber-attacks have targeted Philippine independent media such as Bulatlat, Kodao Productions, Pinoy Weekly, Manila Today, Altermidya and the National Union of Journalists of the Philippines.
Olea also said that on the World Day against Cyber Censorship, Reporters without Boarders mirrored the websites of Bulatlat and Kodao as part of their collateral freedom project.
Qurium Media Foundation, a non-profit digital solutions provider and member of the Computer Incident Response Center for Civil Society (CiviCERT), said the protest at the DITC is the first time that civic groups held a protest against a national CERT for not performing their duties.
In an emailed statement, the Sweden-based media foundation has opened a forensic investigation on the cyberattacks against alternative media and people's organization websites following the inaction of the Philippine's computer emergency response team.
This came after NCERT-DICT did not respond to the three requests for assistance of CiviCERT via email to investigate the attacks.
The DICT website said the NCERT is a division of the Cybersecurity Bureau of the department responsible for receiving, reviewing and responding to computer security incident reports and activities. It is also tasked to gather, disseminate and collaborate information among stakeholders to mitigate information security threats and cybersecurity risks.
NCERT is required to notify an international reporter (like CiviCERT) within 48 hours if a request is regarded as "false alarm" and if the request is deemed as valid, a forensics analysis must be initiated according to its manual of operations.
"Since the attacks only target regime critical sources, they are likely to be politically motivated and perhaps even state supported," Qurium said.
Qurium has been assisting the organizations like Bulatlat, Altermidya and Pinoy Weekly that are under persistent and intense DDoS attacks and is hosting a handful of them since December. # nordis.net