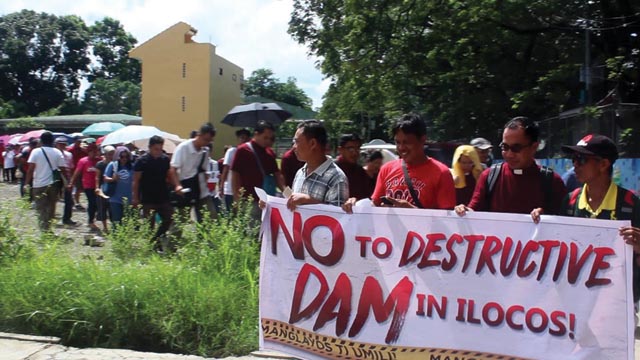 2
MIN READ
By PAOLA ESPIRITU
www.nordis.net
SAN FERNANDO CITY — The people's unity and a series of protest actions forced the National Irrigation Administration (NIA) to cancel one of the priority dam projects under the Duterte administrations Build, Build, Build program.
In a letter addressed to Salcedo Mayor Leopoldo Gironella, the NIA announced that it will forego the Gen. Gregorio del Pilar Impounding Project (GGDPIP) in Salcedo, Ilocos Sur province.
"We would like to extend our sympathy and consideration for your request to defer the implementation of the Gen. Gregorio del Pilar Impounding Project. We sincerely regret that our proposed development caused alarm and sadness to you and your constituents," read the letter dated October 4 and signed by NIA regional manager Engr. Vicente R. Vicmundo.
However, the large dam project may have been canceled but a transbasin project is seen to be a replacement.
"With this slip, we would like to inform you that this office has decided to drop the proposed GGDPIP and rather consider as viable alternative solution the Ilocos Sur Transbasin project," the letter stated.
Timpuyog ti Umili iti Karayan Buaya, in a statement posted on Facebook, welcomed the said decision saying it is a triumph of the people's collective action.
The group thanked all who have fought and supported them throughout the campaign. However, despite the favorable decision, TUKB leader Nick Lacaden expressed concern over the issue. He fears the transbasin is no different with the proposed dam
"We fear they just changed the name to pacify the public's disapproval," he said.
Justin Dawig, a resident of Salcedo, carry the same sentiments. She said they still have to know the full details of the alternative project to decide whether it will be for the people or otherwise.
"It's a possibility they are just using this to mask the real project, for all we know, they will still put up the same dam," she explained.
The news of the GGDPIP construction broke out in February 2018.
Peoples' organizations, socio-civic groups and religious denominations were alarmed of the negative impact of the 89-meter high dam. Several barangays are threatened to be wiped out while families are to be displaced.
With the increasing threats to the residents, a series of protests were conducted to register opposition against the proposed dam. In July 2018, a large rally was held in front of the Capitol followed by a public dialogue between NIA, Salcedo LGU, residents of Salcedo, Del Pilar and other affected towns.
A petition signing ensued where more than 2,000 signatures were initially collected. This was submitted to concerned agencies including DENR which resulted to a dialogue in September 2018.
According to the DENR office, NIA did not seek permit for the said project.
Lacaden called on the people of Ilocos Sur to remain vigilant and steadfast in protecting their land, livelihood and lives.# nordis.net
COPY OF THE LETTER
Courtesy of LGU Salcedo