Panning for a glitter of hope
By KIMBERLIE NGABIT-QUITASOL
www.nordis.net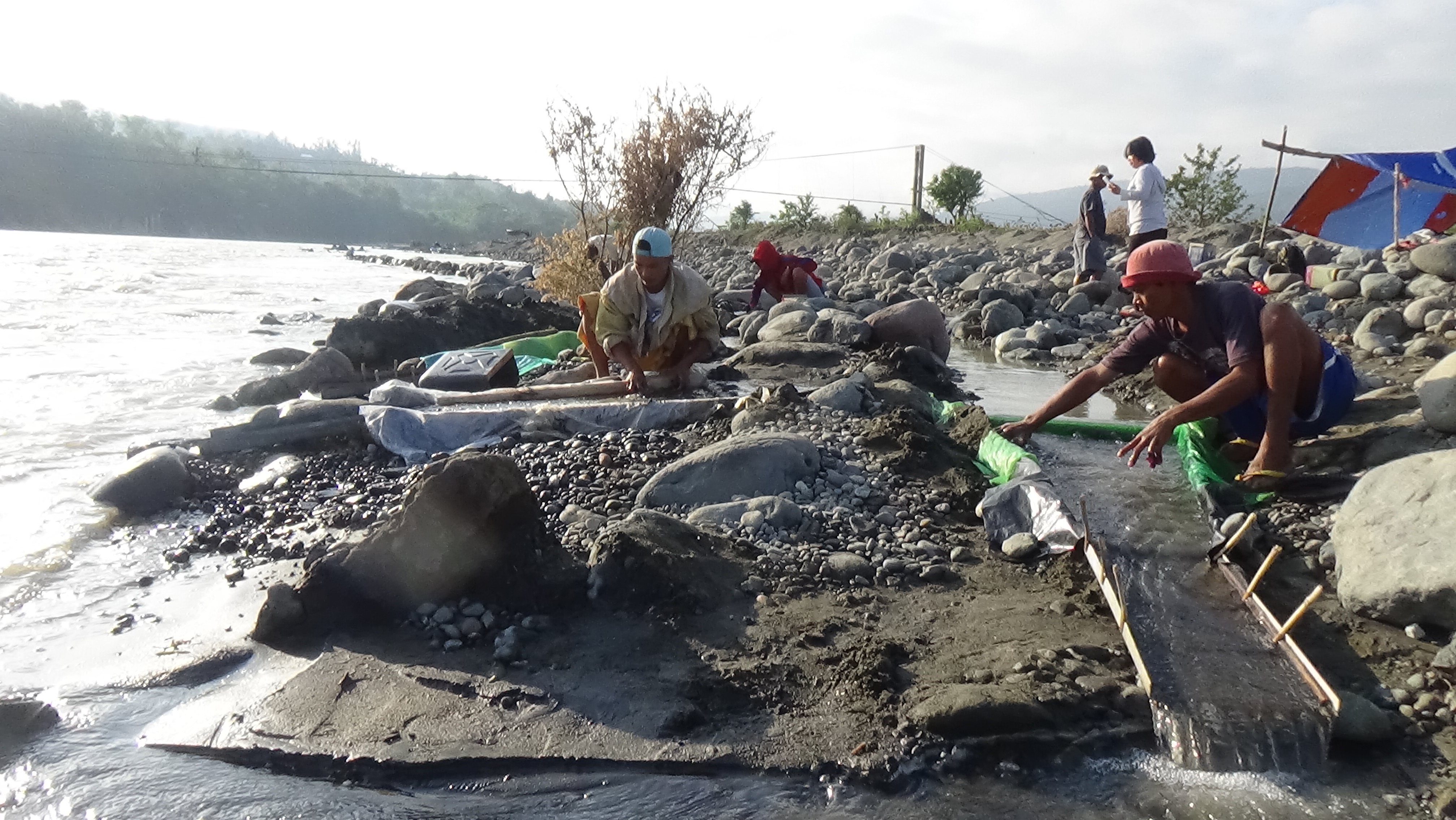 QUIRINO, Ilocos Sur — The following day, right after typhoon Ompong ravaged Northern Luzon, Willie Bal-ot and five other companions went to scour the riverbank of Karayan Libeg to pan for gold.
Patungcaleo Village Councilor Gabriel Umawis said they call the Abra River, Karayan Libeg. "Because it is always murky (nalibeg)," he said it with a grin. He said that every after heavy rain, many of us village folk rush to the river to pan for gold.
Gold panning is a traditional source of livelihood in indigenous communities in Norther Luzon. After the planting season, while waiting for their crops to be harvested, they line up along the river bank to try their luck for the gold carried by the river current down from the mountains.
Willie said that every after a typhoon, there is greater chance for them to get more gold. Willie's group was able to gather some three grams of gold in six days. They were able to sell it at P1,500 per gram. He said they were lucky that buyers buy gold as much as P1,300 to P1,800 per gram depending on the purity or how many karats.
"Even if it is not much, at least we are able to earn some especially that our ricefields are destroyed, a little cash to help us get by," Willie said.
Willie's group said they will continue to pan for gold until sometime toward the end of October or until the sampling tells them that the river has run low of gold.
Umawis said gold panning is just a means to augment the resources of his village. "It is still the ricefield that feeds us, gold panning is just an additional source of livelihood," he said.
He said that October to November is supposed to be harvest time. But because of the destruction that typhoon Ompong brought, he said many will not have any harvest.
In Patungcaleo village alone, the ricefields of some 41 farmers are covered with silt after the flood waters receded.
Laurete Valdez, Sr. is among the farmers of Patungcaleo village who have lost their harvest to Ompong's wrath. He appealed to the municipal government to allow the use of government equipment and machinery to restore their irrigation systems and recover their ricefields now buried in silt.
But Valdez said farmers have already started fixing up their irrigation systems while waiting for the local government to respond to their request. "It would really hasten the fixing up if we have the heavy equipment and machinery," he said.
This November through December should be planting time for Quirino rice farmers which they hope to harvest in April to May. Farmers are hoping that the irrigation systems would be fixed soon so they can catch up with the land preparation work. As it is, they already lost their harvest this season and are looking for other sources to help them get by until the next harvest.
Willie said that apart from gold panning, he also works the ricefields as hired help during harvest and planting season. "When the river runs out of gold, I will look for other sources of livelihood because with the looks of it, it will take longer for the irrigation systems and ricefields to be restored," he said. # nordis.net