2
MIN READ
by Kimberlie Ngabit-Quitasol
www.nordis.net
BAGUIO CITY–The Alliance of Concerned Teachers (ACT) expressed dismay that they have already received reports of violations to the Election Service Reform Act of 2016.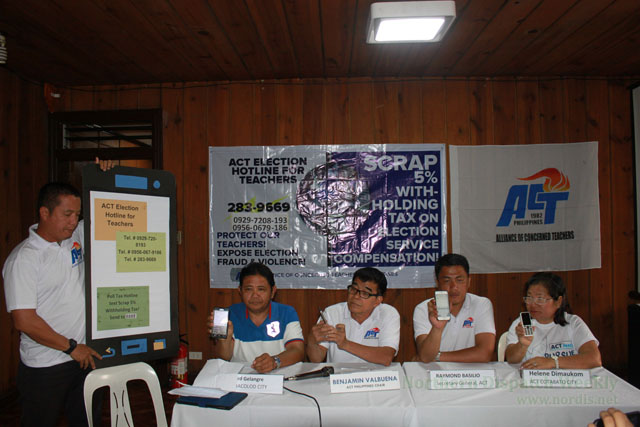 ACT President Benjamin Valbuena said that this Sangguniang Kabataan and barangay elections is the first year for the implementation of the of ESRA 2016.
"We are supposed to reap the benefits of the ESRA which was principally authored by the ACT Teachers Partylist, however we observe cases of violations as the elections draw nearer," Valbuena said.
Valbuena and other ACT leaders all over the country were here in Baguio City for a national congress to find solutions to the problems teachers face in relation to the SK and barangay polls among others.
Among the violations Valbuena mentioned was the Department of Education's (DepEd) enlisting of teachers without getting their consent. He said that as early as March, ACT raised this issue in a dialogue and the Commission of Election (Comelec) committed to address the issue by asking teachers to sign consent forms.
Valbuena also said that Barangay Election Tellers (BET) who will be assigned outside their barangays are endangered to be disenfranchised. He said teachers have raised this concern during the BET trainings but Comelec has not addressed it properly.
"We urge the President to ease the teachers of this nagging concern so that we may focus on the greater concerns of securing the sanctity of the ballots," Valbuena said.
ACT has set up national hotlines to monitor and document election fraud, violence and violations to the new election code.
Valbuena said that through the hot lines, they will be able to give immediate and appropriate assistance to teachers especailly in Mindanao. He said that Mindanao is known for its history of election fraud and violence in the past elections. He added that the martial law imposition over the area gives greater risk to teachers.
"Our most serious concern lies with the lives and safety of our teachers and people in hotspot areas, especially in Mindanao whish is currently under Martial Law," Valbuena said.
The national hotlines are 0929-720-8193 and 0956-067-9186.
According to the Philippine National Police (PNP) Chief Oscar Albayalde, some 5,744 villages all over the country are included in the election watchlist. He said that these villages may have intense political rivalry, recorded incidents of election related violence such as killings and insurgency among others.
The Bicol region has the highest number of villages included in the watchlist with 1,258, followed by the Autonomous Region in Muslim Mindanao (ARMM) with 832, and Central Luzon with 504. # nordis.net